Burslem town hall gets go-ahead to become a sixth form college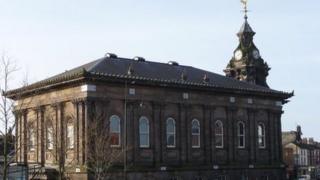 Permission has been granted for a 400-place sixth form college in Burslem's former town hall.
The building has been out of use since the Ceramica pottery museum closed down in 2011.
Haywood Academy has secured funding from the Department for Education (DfE) and is now in talks with the city council about securing a long-term lease for the building.
It plans to open the college in September 2015.
The Grade II listed building was built in 1857 but has stood empty since Stoke-on-Trent City Council withdrew funding for Ceramica.
Last year the town hall was earmarked, along with a number of other buildings, to be sold to help fund the authority's new £45m headquarters in Hanley.
Haywood Academy announced in February that it wanted to convert the building into a sixth form college, but it needed permission from the DfE to use the building in this way.
It said the government department has now approved the plans and it has also agreed to provide £1.6m to help fund the £2.1m project. The rest of the money will come from the council and a private backer.
The council and academy are now talking about a long-term lease for the building, possibly up to 100 years.
The glass extension may be demolished as part of the conversion and the academy is talking to English Heritage and the council about possible alterations to the building.