Stephen Sutton: Cancer fundraiser hits back at 'trolls'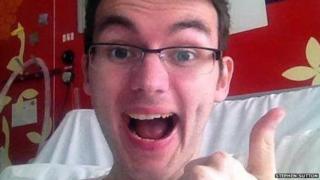 A terminally-ill teenager who has raised more than £3m for charity has rubbished claims he "duped" supporters.
Stephen Sutton, 19, was discharged from hospital on Friday after he made a recovery from a collapsed lung.
But some social media users accused him of misleading people as to the seriousness of his condition in order to raise more money.
He posted a rebuttal tweet and branded the senders "trolls".
'Still incurable'
Stephen, who was diagnosed with bowel cancer aged 15, posted what he thought would be his last self-portrait on 22 April.
He has since raised almost £3.1m for the Teenage Cancer Trust and been allowed to return to his home in Burntwood.
A Twitter user, whose account has since been deleted, said people had felt misled by his sudden "recovery".
Stephen responded: "Sorry to disappoint you! I still have my cancer and it's still incurable, if that makes you feel less 'duped'."
In a follow-up tweet posted on Monday, he called on his supporters not "to get too riled" by "trolls and cynics".
He has vowed to continue fundraising and complete tasks on a 'bucket list' of things to do before he dies.
On Sunday he got into the Guinness Book of World Records by getting the most people to make a heart-shaped gesture with their hands.