Duchess of Cornwall officially opens new armed forces medical training base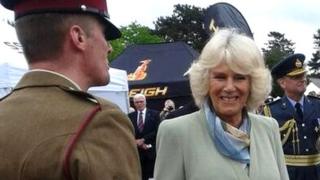 The new armed forces medical training base for the UK has been officially opened by the Duchess of Cornwall.
Doctors and nurses who treat military personnel are now trained at the former Whittington Barracks near Lichfield, Staffordshire.
The duchess unveiled a plaque, attended an official reception and had a tour, after arriving at 14:00 BST.
The Defence Medical Services (DMS) facility replaces one at Keogh Barracks, Aldershot, Hampshire.
The training base in Staffordshire for the Army, Royal Navy and Royal Air Force is part of a £138m site, which has been the Surgeon General's headquarters since 2010.
Training started at the site in February this year and the base became fully operational for training in March.
The first group of armed forces medics to be trained there graduated last week.
Whittington Barracks closed in 2008.