Cancer fundraiser Stephen Sutton readmitted to hospital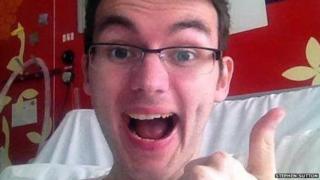 A terminally ill teenager has been readmitted to hospital days after raising more than £3.2m for charity.
Stephen Sutton, from Burntwood in Staffordshire, told supporters on Facebook he was back in hospital after developing breathing difficulties.
The 19-year-old's fundraising took off after he posted a picture of himself in hospital last month when he thought he was close to death.
He recovered enough to be discharged on 2 May but was readmitted on Sunday.
He is being monitored at Birmingham's Queen Elizabeth Hospital after going to the emergency department.
He said: "I've still got the cough, then quite quickly developed a wheeze in my breathing and breathlessness upon any physical exertion.
"There's no immediate panic and I'm currently quite stable - I have been put on nebulisers and other meds which are currently helping my symptoms hugely."
He added: "The doctors think there may be something restricting my airway again, they're not sure exactly what yet though (tumour re-growth, infection, inflammation, are all potential reasons mentioned), but are currently discussing the possibilities and my scan results to decide what to do next."
The teenager was diagnosed with bowel cancer when he was 15 and in 2012 was told it was incurable.
The money he raised will go to the Teenage Cancer Trust, which the charity said will be their biggest ever single donation.
His story has attracted support from celebrities including Jason Manford, Stephen Fry, and Simon Cowell.
David Cameron, who visited Stephen is hospital, called him an "inspiration".