Stoke-on-Trent's £1 homes plan setback as hole found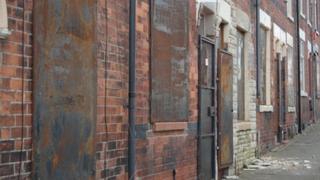 A project to sell houses in Stoke-on-Trent for just £1 has suffered a setback after a hole was found underneath one of them.
It is a suspected "marl hole" - a pit caused by the excavation of clay.
A total of 33 homes in the Cobridge area are being renovated and sold to eligible buyers, 30 of whom are due to move in by late June.
The city council said the impact of the hole - found under one home site in Century Street - would be "negligible".
Under the homes scheme, buyers take out 10-year £30,000 loans to pay the council back for refurbishment work.
Renovation work
They must remain in the properties for at least five years.
Bus driver Lawrence Poxon, 49, has bought one of the houses in Denbigh Street.
"No-one has mentioned anything about a hole," he said.
"It's quite worrying. We don't know or whether it's going to affect us."
Steve Pritchard, chairman of the Portland and Century Street Residents' Association, which includes the £1 homes scheme, said he was not aware of the hole.
'Full steam ahead'
"There have been holes discovered in the road before now so it does not surprise me massively," he said.
"The excavation of clay in the area goes back a long, long time - back to the 1800s."
Five new eligible applicants were confirmed as buyers for the homes in the Portland Street area of Cobridge on Friday.
Renovation work on the terraced homes is almost complete and there are plans to form a new community group to steer future improvement work.
A spokesman for Stoke-on-Trent City Council said he did not know the size of the hole but said there were no concerns about it. He said he expected the remaining properties would be sold imminently.
Deputy leader Councillor Paul Shotton said: "The last remaining house has the shaft under it. Clay holes and old shafts are common in Stoke-on-Trent and other towns and communities across the UK."