Condition of Burntwood fundraiser Stephen Sutton declines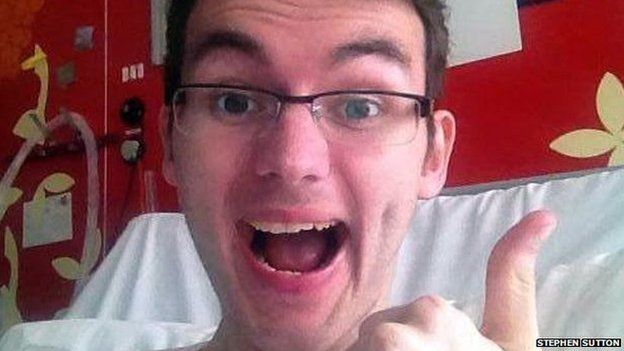 The condition of Staffordshire fundraiser Stephen Sutton has deteriorated in the past 24 hours, his family has confirmed.
The 19-year-old cancer sufferer, from Burntwood, raised more than £3.2m for the Teenage Cancer Trust after news of his plight spread on social media.
But a family statement on his Facebook page said he was no longer able to communicate through it himself.
It said he was comfortable but his airways were being blocked by tumours.
"Unfortunately the breathlessness which had him re-admitted to hospital is due to the regrowth of tumours which are blocking his airways, and not just due to infection as we had all been hoping," it said.
"He is currently comfortable and stable, and we will let you know of any further developments.
"Right now however, as a family, we wish for a certain amount of privacy for us to spend what time he has remaining with him. We appreciate everyone's concern, and for all the love and goodwill sent his way, and indeed ours too, we thank you deeply."
Stephen was diagnosed with bowel cancer when he was 15 and in 2012 was told it was incurable.
He recovered enough to be discharged on 2 May but was readmitted to Birmingham's Queen Elizabeth Hospital.
His fundraising campaign has attracted support from celebrities including Jason Manford, Stephen Fry, and Simon Cowell.
Related Internet Links
The BBC is not responsible for the content of external sites.