Ex-West Midlands Ambulance Service paramedic Roy Guest suspended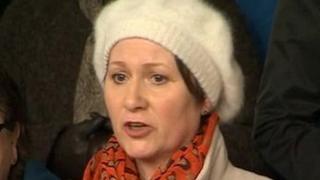 A paramedic has been suspended over abusive comments made on Facebook about a Stafford Hospital campaigner.
Roy Guest was fired by West Midlands Ambulance Service (WMAS) in 2013 after posting comments hoping Julie Bailey suffered "a life-threatening illness".
The case of Mr Guest - who posted the comments under the name Murph - was referred to the Health and Care Professions Council (HPC).
An HPC panel suspended Mr Guest from practice for a year.
After 12 months, the panel said his case would be reviewed.
The panel heard how Mr Guest, who joined the trust in 1999, had written "several offensive and derogatory" posts on the '"We support the front-line staff at Stafford Hospital" Facebook page in 2013.
'Self-centred'
One post included comments about Ms Bailey's mother, Bella, who was 86 when she died at Stafford Hospital.
Ms Bailey started the Cure the NHS campaign group in 2007, aimed at raising standards of care and safety, following her mother's death.
Another comment stated: "I hope you suffer a life-threatening illness."
Mr Guest was not present or represented at the hearing.
Panel chair Claire Bonnet said Mr Guest "has not engaged with these proceedings at any stage."
She added he had sought to apologise to Ms Bailey in writing but the panel had found his letter "self-centred".
"It focussed more on the impact of his actions upon himself and his family, rather than on the impact upon [Ms Bailey] or upon the reputations of the profession," she said.
WMAS said: "It goes without saying the trust would not condone a personal attack and wishes to distance itself from the published comments making reference to Julie Bailey and the situation at Mid-Staffordshire Hospital."
Staffordshire Police conducted an investigation but found the posts did not warrant further action.