Labour retains control of two Staffordshire councils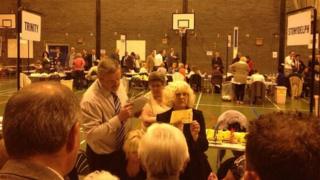 Labour has retained control of Cannock Chase and Newcastle-under-Lyme councils.
But Newcastle's leader, Gareth Snell, was beaten by UKIP in Chesterton - one of four seats lost by Labour. The Conservatives retained Tamworth.
UKIP is now the main opposition in Cannock Chase after Jodie Jones gave notice on Friday that she had left the Tories.
Her seat was not up for election and she has become independent.
Labour won six of the 13 seats that were contested there, leaving it with 25 seats, while UKIP have six and the Tories five.
'Protest vote'
The Labour leader of Cannock council, George Adamson, kept his seat in the Hednesford Green Heath ward.
He got 524 votes. His nearest competitor Mick Sage of UKIP got 335.
Mr Adamson said: "I'm not surprised. On the canvassing I've done a lot of people said they would vote UKIP as a protest, a vote for none of the above, if you like."
The Conservatives held Tamworth with 16 seats, despite losing Stonydelph to UKIP's Tony Madge.
Mr Madge said: "I'm very proud to be the first UKIP councillor on Tamworth council, I'm very happy."
Labour, the opposition in Tamworth, has 12 seats.
In Newcastle, the Conservatives, the opposition there, have 16 seats, while Labour now has 32 of the 60.