Autism fundraiser locked in Hanley shop for a week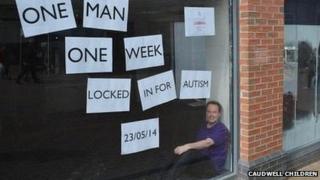 A Stoke-on-Trent man is spending a week locked in an empty shop to raise awareness of autism.
Andy Bailey, who works for a children's charity, is eating, sleeping and working in a shop window in Hanley's Tontine Square.
He hopes to raise £10,000 in the 168 hours to 30 May to support children and families living with autism.
He said he will do his best to live a normal daily life, with "a mobile phone, computer and lots of food".
His action comes two weeks after autism charity Lifeworks said an autism diagnosis service is "desperately needed" for Staffordshire and Stoke-on-Trent.
A doctor has ordered Mr Bailey must be allowed to leave the shop for 15 minutes every five hours for fresh air.
Apart from that, he will communicate with people through the shop window and on twitter as @lockedinautism.
All the money he raises will go to Caudwell Children's ACT (Autistic Children's Therapies) programme.