D-Day Anniversary: Service At National Memorial Arboretum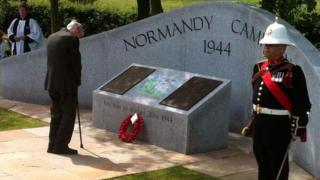 More than 300 people have attended an event in Staffordshire to commemorate the 70th anniversary of the D-Day landings in France.
Veterans laid wreaths at the Normandy Memorial at the National Memorial Arboretum in Alrewas. A service was held in its chapel.
The landings were the first stage of the invasion of Nazi-occupied Europe.
Reverend Dick Sargent, 90, from Stafford, said he was "humbled and proud" to lay a wreath at the service.
Mr Sergent helped land troops on Utah beach as a 19-year-old Royal Navy navigator.
He said: "I remember every minute of that day, the terrible weather, the sea was monstrous, it is all still very vivid to me.
"I've attended a number of services and war memorials but it does seem rather special to me to be here because I was involved in what went on."
Adele Jones, from Stratford-on-Avon, who had come with her husband Lee to remember his grandfather who served on Sword Beach, described the service as "touching".
"It's important for the family to remember what our relatives did in the war," she said.
Assistant Curator at the Arboretum, James Shallcross, said they had been surprised at how many people had turned up.
"It was very poignant, the chapel was overflowing with people out onto the terrace in front of it.... it brings a lump to the throat," he said.
"Very soon those recollections of the war we've heard from [veterans] today will become second-hand, so this is one of the last opportunities to thank them for what they did."