Fish found dead in Trent and Mersey canal in Stone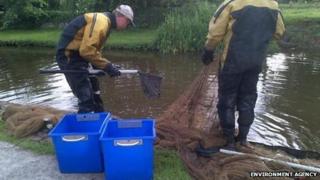 More than 100 fish have been found dead in the Trent and Mersey canal near Stone.
They were found in a 300m (985ft) stretch of the canal, near the site of a former power station and the proposed site of a new one.
An investigation has been launched to identify the cause of the deaths.
Environment Agency and Canal River Trust representatives spent Wednesday evening pumping oxygen into the water and trying to rescue surviving fish.
The dead fish, which include issue pike, bream, perch and carp, were first reported on Tuesday, an Environment Agency spokeswoman said.
The former coal-fired Meaford Power Station was demolished in 1996.
Meaford Energy Ltd is looking at building a 30-acre power station on the site of the old one, capable of powering 500,000 homes.
In a tweet on Thursday, the Environment Agency said oxygen levels in the water had improved.