Trent and Mersey canal fish deaths: 'Danger passed'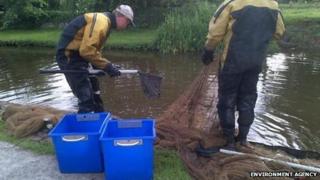 Fish in a stretch of the Trent and Mersey canal are "no longer in danger", the Environment Agency has said.
The agency estimated more than 700 fish have died in a 985ft (300m) stretch of the canal, near Stone in Staffordshire.
An investigation has been launched to identify the cause of the deaths. The agency could not confirm whether the deaths resulted from pollution.
The dead fish, which include pike, bream, perch and carp, were first reported on Tuesday, the agency said.
A spokesman from the agency said it had been working with the Canal and River Trust and had successfully increased the oxygen levels in the canal.
"The fish in the affected area are no longer in danger," he said.
"We have removed all our equipment and will continue to investigate the cause of this incident.
"We can't confirm at this stage whether the incident was as a result of pollution."
He added a fish rescue, on Wednesday, had removed 1,560lb (707kg) of fish from the affected area of the canal.