Burntwood music festival in memory of Stephen Sutton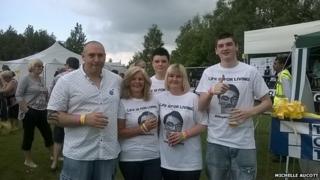 A music festival is being held in memory of teenage fundraiser Stephen Sutton in his Staffordshire hometown.
Organiser Amanda Mayling said more than 2,000 tickets had been sold for the event in Burntwood, which is raising money for the Teenage Cancer Trust.
It has already received more than £4.2m through the appeal by Stephen, who died from cancer on 14 May.
Michelle Aucott, from the trust, said: "His legacy lives on and it's great to see his life celebrated in this way."
Amanda also came up with the idea of decorating Burntwood with yellow ribbons for his funeral and sold yellow wristbands to raise money for the trust.
She said people had donated everything from tents to bales of hay to make the Thumbs Up festival happen.
Earlier, it was announced Stephen had been appointed an MBE in the Queen's Birthday Honours.
The 19-year-old accepted the honour before he died.