Wedgwood Institute could be taken over by Prince's Regeneration Trust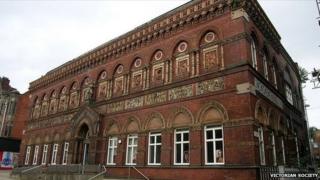 A former ceramics school in Stoke-on-Trent could be taken over by the Prince's Regeneration Trust as part of a deal to restore it.
The trust unveiled plans in May to restore the Grade II listed Wedgwood Institute in Burslem.
The City Council said it was proposing to hand the trust a long-term lease on the building at a much-reduced rent in return for bringing it back into use.
The council closed the building in 2009 because of structural problems.
Councillors are set to decide its future at a cabinet meeting next week.
Ruth Rosenau, cabinet member for regeneration, said the Wedgwood Institute was an "iconic and architecturally important building" that "unfortunately needs a huge amount of repair work to preserve it for future generations".
"We don't have the kind of money needed to renovate it ourselves, but by working with the Prince's Regeneration Trust we hope that we can not only give the building a new lease of life but take a big step towards regenerating the centre of Burslem as well," she said.
Ros Kerslake, chief executive of the Prince's Regeneration Trust, said its interest in the building dated back many years.
Describing it as "a really outstanding building", she said restoring it could cost about £6m, although it was difficult to measure until tenders were put out.
Plans by the Prince's Regeneration Trust include turning the building into offices for small businesses, with a focus on creative industries.
Ms Kerslake said the trust would also have access to grants and other funding unavailable to the council.
"It's a pretty big job, although it doesn't look too bad from the outside. It needs some pretty urgent work on the roof," she said.
The Wedgwood Institute in Queen Street was built in 1869 as a library and school for ceramics, arts and sciences.
It was named after the founder of the pottery company, Josiah Wedgwood, and a statue of him is fixed above the main entrance.
The building was listed as one of the 10 most endangered buildings in England and Wales by the Victorian Society in 2010.