Tunstall Mr Big Deal fire 'deliberate'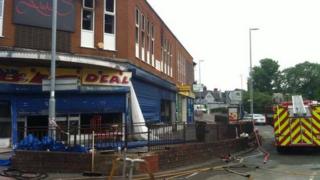 A fire at a discount store in Stoke-on-Trent was deliberately started, police have said.
Fire crews spent a second night at the Mr Big Deal shop on Tunstall High Street on Monday, while investigators have spent much of Tuesday at the scene.
The fire, which started late on Sunday, affected several other businesses.
At its height, more than 60 firefighters from across the county were at the scene.
People in neighbouring properties were warned to keep their doors and windows closed due to the black billowing smoke.
Staffordshire Police have called on anyone who saw people acting suspiciously around the store on Sunday night to come forward.