Cannock Chase dog fights for her life after snake bite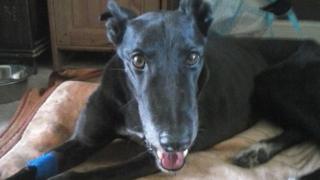 A greyhound was left fighting for her life after being bitten by a venomous snake on Cannock Chase.
Vets said Cookie, eight, could have died after being bitten on the face by the adder on Tuesday.
She received anti-venom and is continuing to be monitored in case she has suffered permanent kidney damage.
"I want to let other dog owners know of the danger so they can hopefully avoid this terrible experience," said owner Lynn Pallatina, from Hednesford.
"I didn't know what had happened to Cookie at first... she just lay down on the ground, opening and closing her mouth and within three minutes her face had started to swell badly," Ms Pallatina added.
Kay Brough, from Wolverhampton vets PDSA, said: "Without treatment it's quite possible she would have died, as adder venom is poisonous and can cause organ failure."
The charity is warning dog walkers that adders, although rare, are found on dry heaths and moors during sunny weather and could attack in self defence if disturbed by an inquisitive pet.
Adders are the only venomous snake native to Britain.