Staffordshire funding announced for jobs and roads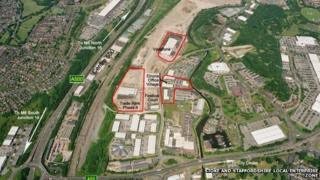 More than £82m of government funding has been awarded to Staffordshire to increase employment and boost the economy.
Projects include building a new access road to ease congestion into Stafford, as well as improving the infrastructure at the four sites which provide the most jobs in the county.
The government claimed the work will generate up to £10m in investment.
The grants are part of a £12bn fund to boost local economies across the UK.
The money will be released over three years, with £20.9m allocated for 2015-16.
The funding will go towards new roads at Etruria Valley Enterprise Area in Stoke-on-Trent; bridge widening at Lichfield Park; a new roundabout at Meaford employment site in Stone, and road widening at the Berricote Four Ashes employment site.
As well as attracting investment, the government said up to 5,000 jobs will be created and up to 1,000 new homes to be built.