Plans for homes near underground Keele fire criticised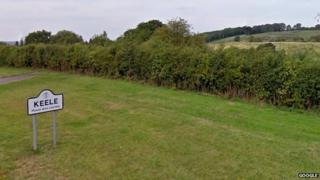 Plans to develop 100 homes near the site of an underground colliery fire in north Staffordshire have been criticised by some campaigners.
The Hollywood Road fire, near Silverdale, has smouldered for nine years and "could continue for two decades", according to a report.
Keele Homes has offered to extinguish the fire as part of its proposed plans to build on the area.
Newcastle-under-Lyme Borough Council is reviewing the planning application.
David Hughes, a campaigner living near the land north of Pepper Street, said: "The biggest issue is safety. You can hardly see anything of the fire now... but if it's opened up the fire could spread into seams that lead into Silverdale."
The area was mined for iron as early as 1680, with coal mining following about 100 years later. Commercial mining stopped in 1998, two years after the spoil heap fire started.
A report commissioned by the developers, including the landowner, concluded the fire could be extinguished at no cost to the public as part of their proposed scheme, or could be allowed to burn out naturally.
It said: "No one can be sure how long burning will continue, but... it appears possible that the fire could continue for two decades if not extinguished."
An earlier report, commissioned by Staffordshire County Council and Newcastle-under-Lyme Borough Council in 2008, said it would not recommend extinguishing the fire.
No one from Keele Homes was available for comment.
A decision on the application is expected on 17 July.