Ben Baddeley undergoes potentially 'life-changing' op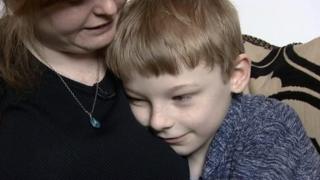 A young boy has undergone a potentially life-changing operation on his back thanks to an anonymous donation.
Ben Baddeley, nine, from Staffordshire, who has cerebral palsy, was due to have surgery in February, but funding was withdrawn.
His mother said Friday's operation, performed privately, was possible thanks to a donation of almost £7,500.
It is hoped it will allow him to walk and play more easily and possibly stop him needing a wheelchair in future.
The three-hour selective dorsal rhizotomy (SDR) operation was conducted at Nottingham's Queen's Medical Centre.
The procedure involves accessing nerves in the spinal chord to reduce tightness in muscles in the lower limbs.
Doctors said it would be some time, however, before its success could be measured.
The nine-year-old, from Silverdale, is due to start physiotherapy on Saturday and is expected to continue it for the next year.
The surgery cost about £11,000, but Ben's parents said a further £9,000 could be needed to provide support and aftercare.
NHS England said SDR was not routinely funded from April 2013 but a number of hospital trusts were currently being considered as specialised centres for the procedure.