Stafford Hospital cuts 60 beds amid staffing problems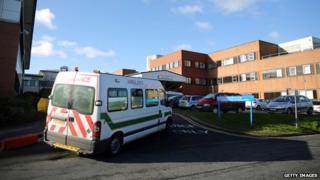 About 60 beds at Stafford Hospital are to be cut, the hospital trust has said.
The Mid Staffordshire Trust said it was partly due to staff shortages but some of the beds closing were only opened to help ease winter pressures.
It said it was reliant on a large number of agency nurses and had a number of shifts each day that could not be filled.
Patients would be sent to hospitals in Stoke-on-Trent, Wolverhampton and Walsall instead, the trust said.
The hospital currently has 300 beds.
'Safe services'
In May, it reported having 85 nursing vacancies, which is about 11% of its workforce.
A three-day review into staffing levels carried out by the Care Quality Commission last week found its services were currently safe.
Chief Executive Maggie Oldham said: "[We] aim to provide safe services to our local community and to do this we need to ensure that the number of nurses safely matches the number of beds in use."
The trust, which has been in administration since April 2013, is due to be dissolved in November with some services being moved to neighbouring hospitals.
Stafford Hospital will become part of the University Hospital of North Staffordshire while Cannock Hospital will become part of the Royal Wolverhampton Trust.