Construction work starts on Stafford shopping centre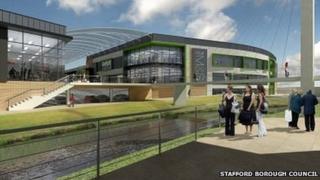 Construction work has started on a new £70m shopping centre following the demolition of a former supermarket and multi-storey car park.
Developers behind the planned Riverside centre in Stafford said there would be no empty units when it opens in 2016.
Debenhams pulled out of the development in June, but was replaced by Primark. LXB Retail said 80% of the store contracts were now signed.
This second phase of the work will mean the closure of a number of footpaths.
The Riverside shopping development will include 18 retail units and cover an area of 190,000 sq ft, the size of two-and-a-half football pitches.
It will also have an underground car park and a six-screen cinema.
Staffordshire County Council's economy leader Mark Winnington said with work about to get under way on the town's new Morrisons store as well, "we can really see the regeneration of Stafford town centre moving forward".