Millions of Staffordshire historical records go online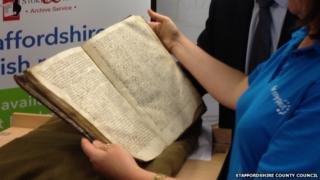 An 18th century Admiral, a freed Jamaican slave and the founder of the Wedgwood pottery company are all included in records to be published online for the first time.
The Staffordshire and Stoke-on-Trent Archive Service and Findmypast website will make 2.8 million documents available.
The baptism, marriage and burial records span 1538 to 1900.
Accounts of floods, riots and an earthquake are also included.
"The Staffordshire Collection" would eventually grow to about six million searchable transcripts, Findmypast said.
It includes records from modern-day Wolverhampton, Dudley, Sandwell and Walsall.
But the service will not be free. Findmypast charges up to 11 pence to download each file, with a pay-as-you-go subscription.
Admiral of the Fleet John Jervis, best remembered for his defeat of the Spanish at the 1797 Battle of Cape Saint Vincent, is recorded on a birth register.
X-Ray scientist William Thomas Astbury and classical composer Havergal Brian are also included.
The work took just under a year to complete and Staffordshire County Council said it would probably be another year before all six million records went online.