Stafford Hospital: NHS campaigners set up protest camp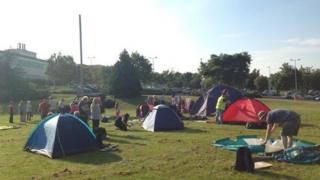 Protesters are camping outside Stafford Hospital against plans to dissolve the hospital trust and downgrade services.
Mid Staffordshire NHS Trust is to be scrapped in November with services, including paediatrics and critical care, being moved to other hospitals.
Two applications for a judicial review into the government-approved plans were rejected on Thursday.
About 30 members of the Support Stafford Hospital (SSH) group set up camp at about 18:30 BST.
Julian Porter, from SSH, said the protest would be peaceful and he was expecting about 200 to 300 people to take part in total.
He said he expected to stay on site until Sunday but the camp could be there longer.
"We're not giving up this protest to save services," he said.
"More than £200m is being spent just to move our services elsewhere... the [NHS] is rushing these changes through and local people need to realise our hospital is just going to be a shell."
The Mid Staffordshire Trust has been unavailable for comment.
Plans to dissolve the trust, which also runs Cannock Chase Hospital, and downgrade its services were confirmed by Health Secretary Jeremy Hunt in February.
It has been in administration since April 2013, after Monitor said it was clinically and financially "unsustainable".