Stafford Hospital: NHS campaigners stand firm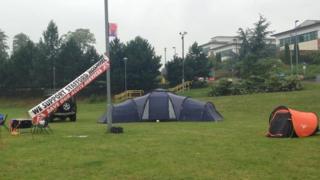 A protest is still under way outside Stafford Hospital, despite heavy storms overnight.
About 30 members of the Support Stafford Hospital Group started the demonstration at 18:30 BST on Friday against plans to downgrade services.
Mid Staffordshire NHS Trust is to be scrapped in November with services including paediatrics and critical care being moved to other hospitals.
More than 10 tents remain on fields opposite the hospital.
Cheryl Porter, from Support Stafford Hospital, said campaigners were not sure how long they would stay on the site and more people were expected to arrive later.
"Nobody's listening, so what do you do? You've got to do something," she said.
"This isn't a factory, this isn't an office block, it's a hospital and it saves lives."
Her husband Julian said the idea of a camp started as a "joke".
"I was camping in the garden and said [on Facebook] 'I've had enough of this I'm protesting outside the hospital.' Some people believed me," he said.
"What it did prove to me on Facebook is that hundreds of people started messaging me and saying it would be a really good idea."
The protest camp followed a decision on Thursday to turn down two applications for a judicial review, although appeals are expected to be submitted.
Last year, up to 50,000 people marched against plans to downgrade services and dissolve the hospital trust.
The trust, which also runs Cannock Hospital, is expected to be dissolved in November.
Stafford Hospital will become part of the University Hospital of North Staffordshire (UHNS) while Cannock Hospital will become part of the Royal Wolverhampton Trust.
The trust has been in administration since April 2013, after Monitor said it was clinically and financially "unsustainable".
The Mid Staffordshire Trust has been unavailable for comment.