National Memorial Arboretum service for police officers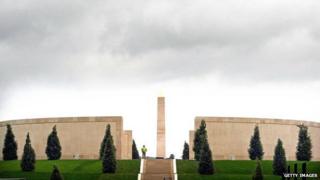 The families of more than 500 police officers who died on duty have gathered at the National Memorial Arboretum.
Forces from across the country joined the Care of Police Survivors (COPS) Service of Remembrance in Alrewas.
The names of eight officers and one member of staff who died over the last 12 months were read out.
They included PC Andrew Duncan, who was killed trying to stop a car in South London in September.
COPS President Sue Brace, whose sister Cheryl was killed in a crash while responding to an emergency call, said the service was an important time to remember family "with pride".
She said: "When we first found out, it was a hot summer day and we were at a barbeque. Our next door neighbour was a police officer and knew Cheryl and he had to tell us the bad news.
"At first we didn't believe it, but then it's like your whole world just stops. It was a feeling of utter desolation."
The COPS charity provides support for families of police staff who die while on duty.
About 100 cyclists travelled to Staffordshire from the police memorial in London to raise funds for the charity.