Stafford Hospital: Services 'safe but still fragile'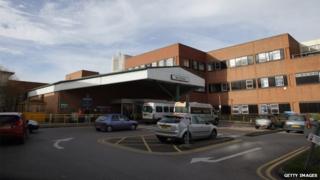 Inspectors have ruled services at Stafford Hospital are "currently safe" but are worried that they are still "fragile" due to low staffing levels.
One in four consultant roles and one in 10 nursing posts are vacant at the Mid Staffordshire NHS Foundation Trust.
Trust administrators called in the Care Quality Commission (CQC) to carry out an inspection because it was struggling to recruit and retain nurses.
Unions said doubts over the hospital's future had affected recruitment.
Chief executive Maggie Oldham is due to report back to Staffordshire County Council on Wednesday, on the initial June visit by Professor Sir Mike Richards, Chief Inspector of Hospitals.
She said: "Sir Mike said he was pleased that he had found services to be currently safe - just, but that he acknowledged the fragility of our services and the challenges we are dealing with during this transition period."
Workers' 'uncertainty'
It would be "several weeks" before the CQC published its final report, the trust said.
Some of the hospital's services are due to transfer to the University Hospital of North Staffordshire and the Royal Wolverhampton NHS Trust in November.
Ray Salmon from Unison, said staff had received letters informing them if their jobs would be moving but they were still unsure about the future.
"People are either leaving or don't want to work at Stafford because of all the uncertainty.
"They don't know what the services are going to look like going forward. This needs to be sorted out."
The Mid Staffordshire NHS Foundation Trust has been in administration since April 2013.