Stafford Hospital judicial review appeal rejected by judge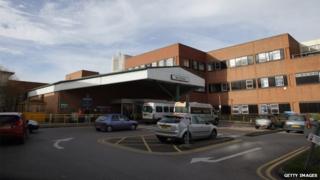 The latest bid to get a judicial review into the downgrading of services at Stafford Hospital has been rejected
A judge at Birmingham Magistrates' Court turned down an appeal by campaign group Support Stafford Hospital.
Its original application for a judicial review was rejected on 18 July.
Draft documents seen by the BBC suggest the children's ward and consultant-led maternity services could close in February 2015 and move to University Hospital of North Staffordshire (UHNS).
The Mid Staffordshire Trust, which runs Stafford Hospital, is due to be dissolved in November with some services being moved later to neighbouring hospitals.
In a statement, the trust said it "noted the court's decision" and would continue work to transfer services.
"The timely completion of the process is in the best interests of patients who deserve sustainable, high quality services," a spokesman said.
The Support Stafford Hospital group said it would appeal against the decision by judge Justice Phillips, who said the reasons for a judicial review were "hopeless".
'At risk'
Campaigner Karen Howell said: "We're going to consult with our solicitors and I suppose the next thing to look at is the European Court of Justice.
"If the evidence we have built up is properly aired in a court which is what we wanted then it will be absolutely evident downgrading services is putting lives at risk."
The Trust Special Administrators' plans for Stafford to become a midwife-led unit were endorsed by Health Secretary Jeremy Hunt.
Asked about timings for the children's ward and consultant-led maternity services, Stafford & Surrounds Clinical Commissioning Group chief executive Andy Donald said: "We've also got (the) secretary of state asking for a review of maternity services.
"But that must be in the context of ensuring patients are safe and if services aren't safe and we have to make a judgement at an appropriate time, then services may have to move earlier than we would want them to under the present arrangements."
A UHNS spokesman said the transition plans were "a draft" and "broadly correct" but there would be "later drafts".
The campaign group said about 30 tents remained at a protest camp on fields opposite Stafford Hospital and it planned to stay there for at least five more weeks.
The camp moved to the site on 18 July.
From November, Stafford Hospital will become part of the UHNS while Cannock Hospital, also run by the Mid Staffordshire Trust, will become part of the Royal Wolverhampton Trust.
The Mid Staffordshire Trust has been in administration since April 2013 after Monitor said it was clinically and financially "unsustainable".