Lorry goes through wall and gardens on A53 Leek Road in Endon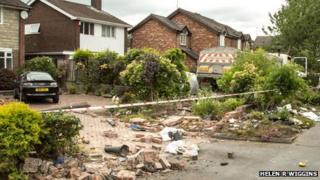 A lorry has crashed through a wall and ploughed into the front gardens of three homes in Staffordshire.
The vehicle was on Leek Road in Endon when it left the road and hit the wall, a tree and a telegraph pole before stopping in a garden, paramedics said.
The driver, in his 20s, had a head injury and a woman in her 70s, who witnessed the crash, suffered shock. Both were taken to hospital.
Police said they were investigating whether he became unwell at the wheel.
Resident Julie Bates, whose garden was destroyed by the lorry, told BBC News it was "a miracle" no-one was injured.
She said she heard a noise from inside her home and then saw the lorry crash into the gardens.
"I consider myself to be very, very lucky this morning that I am still alive," she said.
Neighbour Ethan Davies said he heard "a big bang" and looked outside and saw the lorry coming to rest in his next-door-but-one-neighbour's garden.
Sgt Dominic Young from Staffordshire Police said the construction haulage lorry was not carrying a load at the time of the crash, at about 10:15 BST.