'Wreath of Respect' returns to National Memorial Arboretum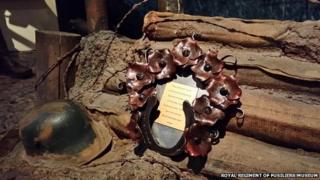 An ironwork wreath commemorating those who died in World War One has returned to the National Memorial Arboretum.
The specially-commissioned Wreath of Respect toured the country for remembrance services.
It arrived back at the arboretum, near Lichfield, Staffordshire, accompanied by Royal British Legion motorbike riders.
The wreath had been formally laid to rest on each of the six nights spent travelling the UK.
Dougie Bancroft, the organiser of the tour, said: "We have all seen the amazing pictures from the D-Day landings and we feel that many people here would like to show respect too.
"The Wreath of Respect is a project that will be bring people together to say 'thank you' to all those who have given so much.
"It is to acknowledge not just the pain and loss of servicemen and women themselves, but also of their loved ones."
A service of dedication was held at the arboretum on Saturday night, finishing with a two-minute silence and the last post.