Staffordshire student 'breaks world record for pogo mile'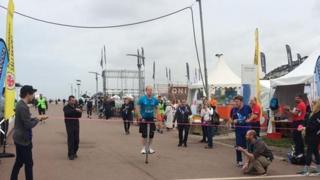 A student from Staffordshire claims to have broken the world record for the fastest mile on a pogo stick.
Jack Sexty took on the challenge at the Xpogo world championship series in Helsingborg, Sweden.
The 24-year-old, from Penkridge, said he completed the mile in 10 minutes two seconds - smashing the previous record of 12 minutes 16 seconds.
The time will now be sent to Guinness World Record officials for verification.
"I'm really pleased," Mr Sexty said.
"It was very tiring - when I got to the end I collapsed."
Earlier this year Mr Sexty became the first person to complete a marathon on a pogo stick.
He is raising money for Alzheimer's Research UK and the Royal Manchester Children's Hospital.
He has raised more than £2,500 from his challenges so far.