£1m funding boost for National Armed Forces Memorial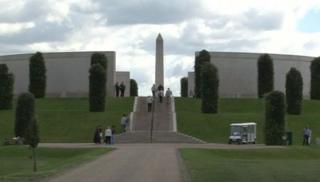 The government has pledged £1m to maintain the National Armed Forces Memorial in Staffordshire.
Based at the National Memorial Arboretum in Alrewas, it commemorates more than 16,000 people who have died on duty since World War Two.
David Cameron has also pledged £2.26m for an initiative in Wales to help veterans adjust to civilian life.
The First Choice Housing Association's scheme runs projects in Wrexham, Flintshire and Ceredigion.
Mr Cameron, who promised to support the Staffordshire site in March, said the extra memorial funding would ensure the people who have given their lives for the country were honoured.
"It will ensure we maintain this special place where families and friends can go to remember their loved ones," he said.
Royal British Legion director general Chris Simpkins said: "This new grant ensures that we can now carry out vital work to maintain the memorial to the highest standards to honour those who have given their lives in the service of their country."