Plan to close Aynsley China factory in Longton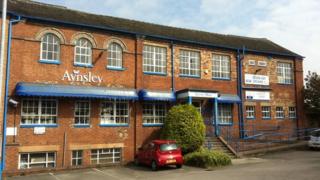 A ceramics company is planning to close its factory in Stoke-on-Trent with the loss of about 40 jobs.
The owners of Aynsley China said its orders had fallen and the cost of running its Sutherland Road factory in Longton were "phenomenally high".
The brand would continue to be made in factories in China, it said.
The ceramics union, Unity, said workers had already had their hours cut to three days a week and that it expected the Longton site to close by Christmas.
Aynsley China said the majority of its UK-made products were exported to Asia, Russia and North America.
It said it had received no orders from Eastern Europe in the "past six to eight months because of the conflict in Ukraine".
'Time running out'
Finance director Martin Sharkey said the cost of running the factory was more than £300,000 a year in business rates and power bills.
"If we don't take these measures the whole Aynsley brand could be lost, we could be talking about closing the whole company, which has history back to 1775," he said.
General secretary of Unity, Harry Hockaday said the decision was "devastating".
He said it was still in negotiations with the company to find an alternative plan to closing the factory but "time was running out".
"We agreed with the company that [workers] could go now if they wanted to but we are leaving no stone unturned to see if there are any alternatives to this closure."
Mr Hockaday said the company would announce its final decision on 26 September.
The company was founded in 1775 by John Aynsley and is currently owned by The Belleek Pottery Group in Ireland which took it over in 1997.