Staffordshire Cancer Care: Campaigners hold protest meeting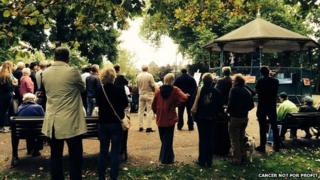 Up to 100 people have attended a public meeting to protest over plans that unions claim could see cancer care in Staffordshire privatised.
Four clinical commissioning groups (CCGs) are jointly tendering for a body to integrate care across the county.
The Unite union said the £1.2bn deal, which is believed to be the biggest case of outsourcing in NHS history, was being "rushed through".
The CCGs said the plans were about enabling patients to get better care.
The successful bidder will co-ordinate cancer care throughout the country - from diagnosis through to treatment and end-of-life care.
'Profit driven'
The service will cover four CCGs that commission services - Stafford and Surrounds, Cannock Chase, Stoke-on-Trent and North Staffordshire.
Alex Fraser of the Cancer Not for Profit group, which organised the meeting at Victoria Park in Stafford, said 11,000 people had signed a petition against the plans.
She said: "We've not seen a business case or how services will be orchestrated; we need more information and consultation from the CCGs."
Paul Giles, who underwent 18 months of treatment for neck cancer at the town's hospital, fears the plans are not in the interest of patients.
The 59-year-old and from Stafford, said: "My concern is if services are taken over by a private provider they will have a profit driven agenda, where somebody could cost out my treatment and decide whether it's worth paying for it."
Andrew Donald, chief officer for Stafford and Surrounds and Cannock Chase CCGs, said the successful bidder could come from the NHS, the voluntary or private sector, or a combination of those options.
He said: "This isn't about changing providers. This is about getting somebody to help us co-ordinate care better through those providers so that patients and carers get a better deal.
"We've spent two and half years talking to hundreds of people who've used services... they've said to us that the service didn't work for them and what they want is to help make it better through what we're proposing."