Wedgwood Museum appeal hits £2m after 'tide' of donations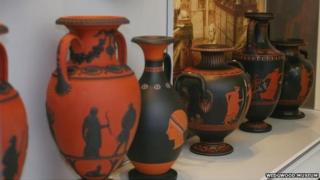 An appeal to save the Wedgwood Museum pottery collection has hit £2m after an "extraordinary tide" of donations.
On Tuesday campaign organiser Art Fund said £700,000 had been raised in two weeks.
The new total included £1m in public donations and support from "major donors, trusts and foundations", it said.
Director Stephen Deuchar said a further £750,000 was needed to hit its target by 30 November.
'Incredible fundraising'
The collection is being sold to pay off the ceramics firm's pension bill debt, inherited by the museum after Waterford Wedgwood Plc collapsed in 2009.
Mr Deuchar said "exceptional" public support had "triggered a tide of pledges".
More donors and sponsors were being approached to secure further investment, he said.
Ceramics expert Eric Knowles said the speed of fundraising was "incredible" but the campaign had not yet reached its goal.
"I'm pleased but I'm not euphoric at the moment because £745,000 is a lot of cash," he said.
The Art Fund has already secured £13m of funding from the Heritage Lottery Fund towards the appeal.
It said the collection, of more than 80,000 historical pieces, works of art, photographs and archival material from Wedgwood's 250-year history, is valued at £15m.
About 8,000 former workers were paid by the Pension Protection Fund but in 2011 a judge ruled the collection could be sold to pay back the debt.