Wedgwood collection 'saved for nation'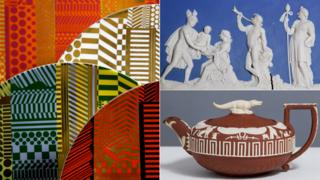 The Wedgwood Museum collection has been "saved for the nation" after reaching its £15.75m target in a month.
The collection features 80,000 works of art, ceramics, manuscripts, letters and photographs.
It faced being sold to help pay off the pottery firm's pension bill, inherited by Wedgwood Museum after Waterford Wedgwood plc collapsed in 2009.
The collection is expected to remain on display at the museum in Barlaston, Staffordshire.
The Heritage Lottery Fund, the Art Fund and a number of smaller trusts have contributed £13m, while a public appeal, including donations from businesses, has raised a further £2.74m since it launched at the start of last month.
Stephen Deuchar, director of the Art Fund, said the Save Wedgwood appeal had been the fastest fundraising campaign in the charity's 111-year history, reaching its target almost two months before its deadline.
He said it demonstrated "nothing less than a national passion for Wedgwood".
"Together we've ensured that one of the most important collections in the world can continue to be enjoyed by all," he said.
Tristram Hunt, Labour MP for Stoke-on-Trent Central, described the collection as "perhaps the most compelling account of British industrial, social and design history anywhere in the world".
"I'm extremely pleased that this treasure trove will now remain intact, in Staffordshire and on display to the public as Wedgwood himself would have wanted," he said.
The collection will be gifted to the Victoria and Albert Museum, with plans to loan it to the Wedgwood Museum.
It is expected to go on display in a new visitor centre, part of a £34m redevelopment of the Barlaston site, set to open in spring 2015.
Wedgwood
The pottery firm was founded in Etruria, Staffordshire, by Josiah Wedgwood in 1759
The first museum opened in 1906 and the collection remained on public display at the factory until the start of World War Two
Wedgwood moved its factory to Barlaston in 1940
The company merged with Irish brand Waterford Crystal in the 1980s to create Waterford Wedgwood
It had debts of about £400m when it went into administration in January 2009