Motorcyclists converge on National Memorial Arboretum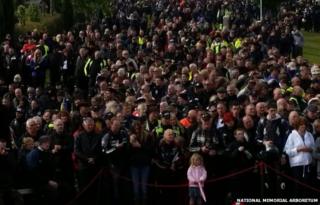 Thousands of motorcyclists from across the country have travelled to the National Memorial Arboretum for an event in support of the armed forces.
The groups included about 80 motorcyclists from Belgium, riding from the Menin Gate to the arboretum in Alrewas, Staffordshire.
As part of the event a Tiger Moth biplane dropped poppies along the causeway to the memorial.
A service of remembrance was also held at the arboretum.
It commemorated the more than 16,000 British servicemen and women killed on duty or by terrorism since World War Two, whose names are engraved at the National Memorial Arboretum.
The event also marked the centenary of the outbreak World War One.
Martin Dickinson, organiser of Ride To The Wall, said: "There are an awful lot of motorcyclists who are ex-forces and it's just a way of them coming together as like-minded people to remember those names.
"I didn't want the names on the wall to be forgotten."
Jason Garey, one of those taking part, said about 300 motorcyclists had joined the procession from Strensham services on the M5 to Alrewas.
The event featured performances from the Military Wives Choir, an aerobatics display and messages from a number of the armed services.