Fake radio text councillor Paul Shotton 'misled public'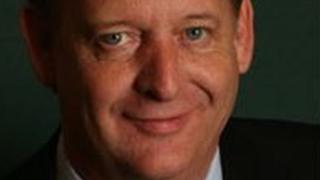 The ex-deputy leader of Stoke-on-Trent City Council brought the authority into disrepute when he used fake names to text BBC Radio, a report has found.
Paul Shotton sent messages to BBC Radio Stoke in support of the council and the Labour Party and criticised rivals.
He later admitted he been "plain stupid" and stepped down.
A panel of councillors will make a decision on any penalties against Mr Shotton next week.
Mr Shotton sent the texts over a six month period and used names like Jean from Fenton, Alison from Crewe or Dave in Smallthorne.
Comments he made included congratulating the council's decision to exhibit at the Chelsea Flower Show and backing the city's bid for a high speed rail station.
'Incessant negativity'
Mr Shotton was caught when a BBC Radio Stoke journalist recognised the phone number and referred the issue to the council.
An investigation by the council's legal officer was started after he stepped down in June. He was suspended in May.
Mr Shotton told investigators that he was not writing the texts in an official capacity as a councillor and that lots of people use false names on the internet, on newspaper websites.
He said he did it because of the "incessant negativity" in the local media.
He said he wanted to "present what I believed to be a balanced view, and a more positive perspective of the city and the city council."
But the report concluded he misled the public and brought his office or the council into disrepute, however the content of the texts did not breach the council's code of conduct