Son remanded in custody accused of father's Kidsgrove murder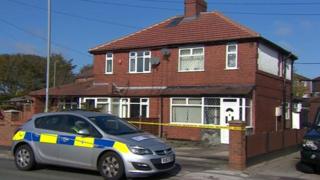 A 43-year-old man accused of murdering his 66-year-old father has been remanded in custody by a court in Staffordshire.
David Ainscow was found dead at an address on Whitehill Road, Kidsgrove, shortly after 15:00 BST on Saturday.
His son Gareth, also of Whitehill Road, was arrested at the scene and charged with murder.
After a hearing at Newcastle-under-Lyme Magistrates' Court, he is due at Stafford Crown Court on Wednesday.