Councillor Paul Shotton reprimanded over fake name texts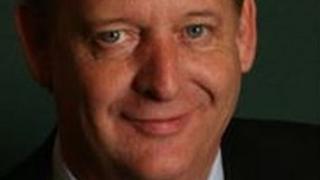 An ex-deputy council leader who sent a string of texts to a radio station under fake names has been reprimanded.
A panel ruled Stoke-on-Trent city councillor Paul Shotton, who sent messages in support of the authority and Labour party to BBC Radio Stoke, brought his office into disrepute.
It also recommended he should not hold any chair or cabinet positions within the council until after the 2015 general election.
Mr Shotton did not attend the hearing.
'Best intentions'
The panel echoed the findings of a council report which found Mr Shotton's actions had misled the public.
It also ruled Mr Shotton had been acting in an official capacity as a councillor, despite his claims he had not.
Deputy monitoring officer Gerry Clarke told the hearing Mr Shotton, who stepped down in June, had "already paid a high price and was acting with best intentions".
Mr Shotton told the council investigation the messages, sent over a six-month period, had been sent to counter "incessant negativity" in local media.
He sent texts on various topics using names like Jean from Fenton, Alison from Crewe and Dave in Smallthorne.
These included backing the council's bid for a high-speed rail station in Stoke and applauding its Chelsea Flower Show entry.
He was found out when a BBC Radio Stoke journalist recognised his phone number and notified the council.