The people behind the Stafford Hospital protest camp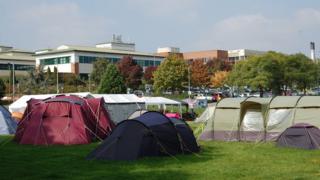 As plans for overhauling key services at Stafford Hospital are unveiled, they are likely to provoke opposition. And emotions will not run higher than at the protest camp outside, set up by the Support Stafford Hospital (SSH) group in July.
The band of campaigners led a 50,000-strong march through the centre of Stafford in April 2013 - a rally where protesters waved banners saying "Stafford saved my dad" and "Stafford looks after my son".
The government has said dissolving the Mid Staffordshire NHS Foundation Trust - put into administration last April by health watchdog Monitor - was necessary to preserve high standards of care.
But, the group believes handing control of services like paediatric and maternity care to other providers could risk the lives of people in Stafford.
Even now, when the future of Stafford Hospital has been decided, SSH keeps going and keeps making its voice heard. It has maintained a constant presence at the entrance to the Weston Road site since the summer.
Julian Porter founded the camp with his wife, Cheryl. Both had been involved with SSH since overnight accident and emergency closures were introduced in 2011, he said.
He said: "We very often used this hospital because of Cheryl's granddad, who lived with us. He could go downhill quite rapidly so he'd be coming here to the accident and emergency department in the middle of the night."
One of his main concerns is the possibility of services moving to Wolverhampton or Stoke-on-Trent, accessed via the busy M6 motorway.
'Pockets of debate'
Mr Porter said he feared increased journey times for patients making the trip from Stafford to one of the other hospitals could risk lives and increase the burden elsewhere.
"If you close our services it's only going to impact on services around us," he said.
Mr Porter, a father-of-four, balances time at the camp with his full-time job.
"In the evenings, I come straight here once the kids are in bed at the house," he said.
"I help to organise the night and the next day so there's a list of people that can go out and get food and water, the basics, stuff like that.
"Then, I get up at about seven o'clock and head home, get the kids ready, take them to school and then go to work."
Mr Porter added: "It's weird to say, but it's been quite enjoyable. It's been a real community.
"We started at the beginning of the school holidays a bit by accident. I posted a picture of a tent I'd put in my garden and joked about occupying Stafford and the idea grew from there.
"My little one, Leo (four years old), did 36 nights down here during the school holidays; that was his summer holiday. It was an adventure for him. He loved being on camp; he made so many friends he didn't care where it was.
"It's not a militant thing, it's a community thing. It's not 'Swampy', it's just normal people who are doing something quite exceptional."
The camp has been set up on land owned by the hospital, but Mr Porter said protesters were not disrupting hospital services and had not been asked to leave as a result, although that could change at the beginning of November.
At its height about 45 tents were pitched on the site, and more than 30 tents remain, with many people staying overnight.
"There were about 10 of us last night, more on weekends. Night times are not the problem, it's keeping it manned during the day, when many of us are out at work," Mr Porter said.
Social media
Ali Draper, from Castle Bank, said she decided to become more involved with the group after she joined the 2013 march of 50,000 people in support of the hospital.
She has spent nights at the camp, but prefers to go there during the day.
"There's a lot more political discussion at night because the people generally who are around at that time are quite happy to hear other people's views," she said. "There are lots of little pockets of debate around the camp fire."
Ms Draper said the camp was often visited by people from Stafford, who contributed food and other supplies.
Mr Porter said despite the colder nights and wet weather, support from the local community had helped the camp to survive.
"We put an appeal out on Facebook and next thing you know we're getting logs and firewood. Someone brought down wood from an old shed they'd broken up to use in our burners for heat," he said.
"The visual impact of having the camp here has helped. I think locally we couldn't have done an awful lot more to publicise our campaign, and we've done a lot on social media."
'Good relations'
Like the hospital, the future of the camp, and the eventual length of its tenure, is uncertain.
Mr Porter said the group would stay at least until 31 October - the date when the trust is due to be dissolved - but what happened afterwards remained to be seen.
"At the moment we have very good relations with the hospital management, but we'll have to see how that relationship changes," he said.