Staffordshire HS2 village criticises council's 'compromise'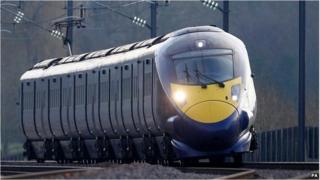 Villagers in Staffordshire have criticised the county council for allegedly "failing to make a stand" against the HS2 high-speed rail link.
Residents of Whitmore Heath, in North Staffordshire, say their properties are blighted but the council has done little to help.
The council was due to present evidence about high-speed rail before a select committee but has changed its mind.
But Councillor Mark Winnington said the council was fighting for residents.
'Be realistic'
The government's preferred route for the second phase of the line, between Birmingham and Manchester, includes a spur junction to Crewe which would mean the line would pass in a tunnel under Whitmore Heath.
Residents say they have been told they are not entitled to compensation, but several claim the plans have left them unable to sell their homes.
Chris Dawes, from Whitmore, said his house has lost up to 50% of its value.
He added the county council had been "slow" to support affected residents and compared them unfavourably with the 51m alliance of councils, including Warwickshire, which has challenged the government on its evidence for the rail link.
"Initially the council was against HS2 but recently it has gone very quiet," he said.
"We feel trapped - especially those residents who are near the end of their lives and need to downsize and move."
Sarah Da Silva, a businesswoman who lives in the area, said her house was "not worth anything now".
Mr Winnington, Staffordshire County Council's cabinet member for economy, environment and transport, said the authority had not presented evidence to MPs because the select committee was only looking at the first phase of the scheme, between London and Birmingham.
He added the council would continue to fight for compensation and mitigation for residents.
"We are still opposed to HS2 but it's fairly obvious 90% of parliament is in favour of it," he said.
"We have to be realistic and say there's a big chance it will happen. But my heart goes out to affected residents."