Leukaemia toddler Margot Martini 'now beyond rescue'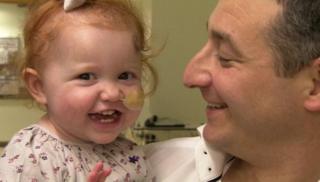 The parents of a young girl with leukaemia who prompted a worldwide marrow donor appeal have revealed nothing more can be done to save her.
Margot Martini, who lives in Roehampton, London, but has family in Essington, Staffordshire, had a bone marrow transplant in February.
But the cancer has returned and now the family has said she is "beyond rescue".
A post on the Team Margot Facebook page said the two-year-old has an infection she was unable to fight.
In the post, her father Yaser said: "Bottom line is this life threatening pseudomonas bug is gathering momentum and Margot can't seem to clear it.
"We are told that Margot is now beyond rescue and that it's no longer a matter of the place of care, but the place of death.
"Margot is to remain at home, where we are keeping her as comfortable as possible."
Mr Martini said the family was working with a palliative care team and trying "to enjoy the time we have left with [Margot]".