Stafford Borough Council leader quizzed by police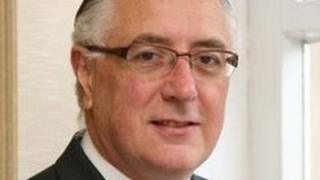 The Conservative leader of Stafford Borough Council has been interviewed by police after failing to officially declare his role in three businesses.
Mike Heenan apologised to the council in February for not disclosing he was a company secretary for the firms.
At the time, he said it was an honest mistake and had never been at a meeting where he had not declared an interest.
Staffordshire Police confirmed they had spoken to Mr Heenan and a file would be sent to the Crown Prosecution Service.
In a statement, the force said: "Staffordshire Police have conducted a detailed investigation following concerns raised about the conduct of a senior elected member at Stafford Borough Council."
Officers would "review the information gathered" before a file is sent to the CPS.
Mr Heenan is a chartered accountant and registered as a company secretary for the firms on the Beacon Business Park, but said he was not paid separately for those roles.
There is no suggestion the firms acted improperly.
Council regulations mean councillors must publicly declare all companies they work for or own a part of and any employment or vocation carried out for profit or gain.
Mr Heenan's public register of interests has since been updated.