Milk price protests: 'Hundreds' gather at Adams Food in Leek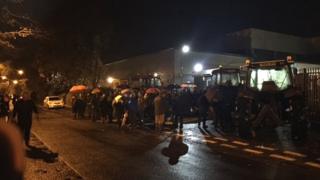 Protestors have blockaded a major UK cheese supplier as part of an on-going dispute over milk prices.
Campaign group Farmers For Action say Irish Dairy Board-owned Adams Food is "bringing in cheap cheese [from Ireland] and undercutting others".
The protestors are stopping container wagons from accessing or leaving the firm's base in Leek, Staffordshire.
Farmers have staged several protests at dairy processors recently over their concerns at falling milk prices.
Paul Rowbottom, from Farmers For Action, said about 400 demonstrators were at the site but were acting peacefully under the watch of police officers.
He said people started gathering from about 20:30 GMT and would stay until about midnight.
The group say cuts in prices will put a lot of dairy farmers out of business and are protesting against a decision by Adams Foods to import cheese from Ireland.
No-one from Adams Foods was available for comment.