Stafford fireworks blaze: Men who died named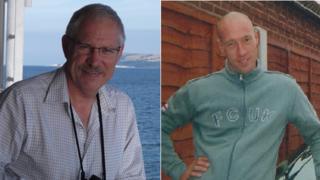 Two men killed in a fireworks warehouse blaze in Stafford have been named.
The bodies of Simon Hillier, 41, and 57-year-old Stewart Staples were found on Friday, a day after a huge fire and explosion at the SP Plastics industrial unit on the Baswich Estate.
The men, both from Hednesford, will not be formally identified for some weeks, said police, but there was enough evidence to place them at the scene.
It is believed Mr Hillier worked at the unit and Mr Staples was a customer.
Nearby workers described an initial explosion before fireworks detonated overhead and further blasts damaged neighbouring units.
Two men were injured in the fire and one, aged in his 40s, remains in a critical condition with serious burns.
'Deafening and constant'
The family of Mr Hillier, who was a keen kickboxer, said: "We are all very proud of his sporting achievements and in everything else he did in life.
"He was a fantastic son and brother and a terrific dad, we all miss him."
Mr Staples, who had three children and a young grandson, was described by colleagues at Staffordshire County Council - where he worked in the highways department - as "one of the most respected, trusted and well-liked members of our staff, and a true gentleman."
His family said they were shocked and devastated by his death, and called him a "devoted and much-loved" man whose favourite pastime was walking on Cannock Chase with his family.
Witness to the fire, Stephanie Horton, said it had been quiet on the estate before she heard a "very loud explosion", followed in succession by several more.
Ms Horton, who worked in a nearby, unit said she managed to escape after a colleague "all but lifted the door off its hinges" allowing them to get out.
Neil Kendall who lives in a nearby caravan park described the noise as "deafening" and "constant" as the fireworks detonated in the heat.
"There was a guy who had parked his van nearby and he had just come out of there," said Mr Kendall.
"He said some of his colleagues were inside, buying fireworks, and he was concerned."
Searches resumed on Saturday morning at the unit.
Supt Ian Coxhead, of Staffordshire Police, said: "Sadly, our inquiries have placed both men at the scene when the fire started."
A 53-year-old man arrested over the fire has been released and is now considered a witness, police said.
Supt Coxhead warned that although a fingertip search was under way, it would take a long time for the cause of the fire to be established because of the instability of the building.