Cyber-attack weblink 'malicious'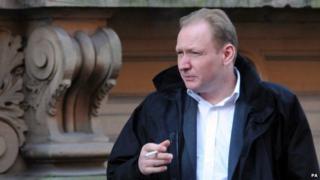 A Twitter user signposted cyber-attacks which crippled the Home Office website by flooding it with huge amounts of internet traffic, a jury heard.
Mark Johnson, of Stoke-on-Trent, was alleged to have posted a link meaning web users could join in with the "concerted" 2012 attack.
The 44-year-old denies encouraging or assisting an attack on the site and on Home Secretary Theresa May's page.
Birmingham Crown Court heard he posted a "malicious" link.
Timothy Devlin, prosecuting, said during a two-day cyber attack launched by global hacking group Anonymous, "8,347 connections" hit the Home Office site in one half-hour period.
Guy Fawkes mask
The weight of connections meant an alternative "disaster recovery" version of the site had to be put online in place of the main site, he said.
Mr Devlin said: "He was saying 'if you want to help close down the Home Office and Theresa May's website, here's the link'."
The prosecution counsel explained at the start of the trial that Mr Johnson, of Josiah Wedgwood Street, did not deny supporting some of Anonymous' campaigns.
Mr Devlin said the defendant's Twitter account contained a picture of one of the group's signature images, a stylised Guy Fawkes mask.
He said it was Mr Johnson's defence that his social media account had been hacked and the link had been posted by someone else.
Jurors also heard how in August, two months after the Home Office attack, Mr Johnson posted a link to an Anonymous group YouTube video regarding another cyber attack, which this time targeted the San Francisco public transport system in the US.
The case continues.