Musical about songwriter Jackie Trent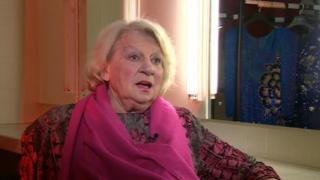 A musical is being written about the life of Jackie Trent, who wrote for Frank Sinatra and Petula Clark along with her ex-husband Tony Hatch.
The singer and songwriter's collaboration with Hatch saw them write more than 400 songs.
Their hit, Where Are You Now My Love, knocked The Beatles off the number one spot in 1965.
Trent has returned home to Stoke-on-Trent to work with writers of the production, due out next May.
Jonathan Fernihough, director at the Staffordshire-based amateur theatre company The Porthill Players, said: "She was just determined to make a star of herself and that's exactly what she did.
"She just went out there and she's just wowed the world with her music."
The Jackie Trent Story will look at the life of the singer and songwriter, who was also responsible for the theme tune to the soap opera Neighbours, along with her former husband.
Looking back on her career in the 1960s, Trent said: "British music arrived. Everybody wanted The Beatles. Everybody wanted Petula Clark.
"It was going to be my life and fortunately the face fits and I was there at the right time and the right place."