Stafford fireworks blaze: Safety warning issued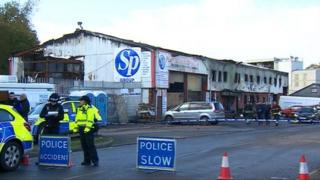 Customers have been urged not to use fireworks bought from a warehouse destroyed by a blaze in which two people died.
Staffordshire Police said it was trying to trace any products purchased from SP Plastics, in Stafford, so they could be "thoroughly inspected".
The force said commercial fireworks were "more likely to pose a risk".
Supt Ian Coxhead said the fire, which broke out on Thursday, was still being treated as "unexplained".
It would be "some time" before the exact cause of the blaze was known, he said.
'Remains dangerous'
Police invited anyone who bought fireworks from the store, on the Baswich estate, to contact them for further advice.
Commercial products with plain packaging, rather than retail versions in "decorative, colourful wrapping", were more likely to pose a risk, they said.
The force asked customers to contact police, who would then refer them to Trading Standards for further advice.
It said items bought from SP Plastics should not be taken into a police station or council office.
SP Plastics, in Tilcon Avenue "remains dangerous and is fenced off with screens to prevent public access", they added.
A police cordon around the site was lifted on Monday following a "very difficult and dangerous examination of the scene".
The bodies of employee Simon Hillier, 41, and customer Stewart Staples, 57, were found at the site on Friday.