Mark Johnson denies Home Office cyber attack posts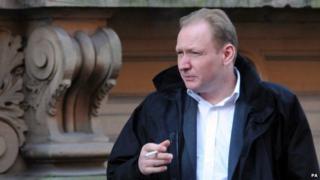 A Twitter user has denied posting online messages which led to the Home Office Website being taken offline.
Mark Johnson, from Stoke-on-Trent, is accused of posting a link to his profile allowing people to join an attack on the website in 2012.
However, he told Birmingham Crown Court he had not seen the message before his arrest and had "no idea" how it found its way on to his Twitter account.
The 44-year-old described his computer skills as "just above basic".
'Black screen'
"If my computer blue-screen crashed I wouldn't know how to fix it and I wouldn't know how to write a program," he said.
Mr Johnson, who works as a casino croupier, told the jury he was only computer literate "up to a certain point" and had not looked at a webpage used to launch the distributed denial of service (DDOS) attack.
He faces a charge under the Computer Misuse Act of encouraging or assisting a DDOS attack against the Home Office and Home Secretary Theresa May's own constituency webpage.
The prosecution said the attack was launched by the hacking group Anonymous.
Mr Johnson told the court Anonymous opposed censorship and copyright laws, but said he knew little else about the group.
Asked about a "black screen" webpage containing the Anonymous motto and allowing users to join the Operation Theresa May attack, Johnson told the court he had never seen it, or any similar, page.
The trial continues.