Stoke-on-Trent ambulance base seeks new base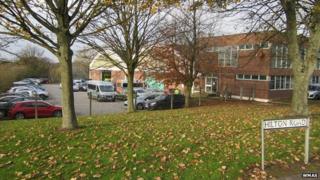 West Midlands Ambulance Service is to move its main Stoke-on-Trent ambulance base in the face of "rising demand".
The service has about £3m to spend on a purpose-built hub for the city and is looking for a suitable site.
It wants to move from its present home in Hilton Road, Penkhull, to be closer to the A500 Etruria flyover area.
The current city hub is its busiest in the region and needs to expand to cope due to increased mobile phone use and "higher public expectations", it said.
'Dramatic change'
The service said it hoped to find a suitable site close to the Royal Stoke University Hospital within the next two years.
Lee Washington, from the West Midlands Ambulance Service, said: "We simply can't accommodate the number of emergency vehicles and staff that we now need to cover Stoke and the Moorlands."
Murray MacGregor, the service communications director, denied the changes had anything to do with the reorganisation of services in Stafford.
There are about 230 ambulance staff based at the existing Stoke-on-Trent hub, which has seen growth of almost 8% this year, he said.
The service is asking the public if they have land to sell for a new ambulance base.
Mr MacGregor said any member of the public or developer with potential sites should get in touch.